CHICAGO – Mayor Lori Lightfoot was on the defensive Saturday when crowds of mayoral challengers called her out for not reopening the city's mental health clinics.
Seven of nine mayoral candidates showed up at a Saturday forum hosted by Access Living, a nonprofit focused on breaking down systemic barriers for people with disabilities.
Mayor Lori Lightfoot, Rep. Jesus "Chuy" García, Ald. In attendance were Sophia King (4th), State Representative Kam Buckner, activist Ja'Mal Green, Cook County Commissioner Brandon Johnson, and former CPS CEO Paul Vallas. Businessman Willie Wilson and Ald. Roderick Sawyer (6th) did not appear.
Saturday's panel was the first for Lightfoot and García and comes after a recent poll showing Lightfoot trailing three challengers: García, Johnson and Vallas.
The panel focused on Chicago's disability issues of criminal justice, transportation, special education teacher shortages, mental health, and affordable housing.
When asked about mental health, the other candidates said Lightfoot refused to reopen six mental health clinics closed under former Mayor Rahm Emanuel.
Last year, Lightfoot's administration pushed back forcefully when a group of aldermen proposed shuffling mental health spending to reopen closed clinics. On Saturday, he said his alternative plan, the Trauma-Informed Centers of Care Network that funds community mental health organizations and the city's five remaining mental health clinics, has been a more successful model of offering culturally relevant services. in all 77 neighborhood areas.
"There has been a lot of talk about the reopening of mental health clinics. … I thought about it too and discussed it," Lightfoot said. "But then what I heard from the experts and what I heard from the patients is that they didn't want the clinical care our clinics offer. What they wanted was be able to access culturally relevant services in their neighborhood".
García said he would work to hire more mental health doctors, expanding access to health care in partnership with Cook County, but did not say whether he would reopen the clinics.
"There's an increased need for mental health services today especially," he said, adding that he would prioritize expanding health care citywide "whether it's in Chatham, Little Village or Uptown."
Other candidates on Saturday said their mental health policies include reopening those closed clinics.
Many of the applicants said they have family members with disabilities. But some struggled to give specific policy initiatives that they would implement that would directly impact Chicago's disability community.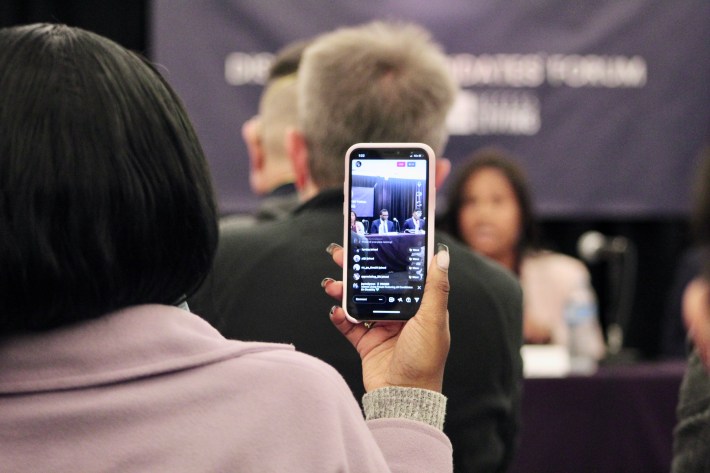 When asked how the nominees would make transportation more accessible, King mentioned creating a partnership between all transit systems, and Vallas introduced more police officers to the CTA to keep the disabled safe.
The other candidates have rolled out updates to the CTA stops to make them ADA accessible.
Johnson said he would add ambassadors to the CTA who could assist riders with disabilities, while Buckner has launched online booking for paratransit services. Green, Johnson and Buckner also said they will implement a municipal snow removal program to make sidewalks more accessible in the winter.
Lightfoot touted the city's $118 million from the Federal Department of Transportation to continue modernizing CTA stops throughout the city by making them accessible.
When asked about Chicago Public School's shortage of special education teachers, many of the applicants said they would increase the pay and pathways for people to become teachers.
King and Green said they would create programs to help teachers secure housing. King suggested interest-free loans to build a house. Green recommended covering those teachers' down payments and closing costs.
"They are the one profession where we throw at their feet anything we can't fix and ask them to do it. They need that incentive," King said.
Vallas, who has experience leading public school systems in Chicago, Philadelphia and New Orleans, said he would subsidize student teachers to enter the classroom and allow graduate students to earn credits to become certified.
When asked about reentry plans for disabled people leaving prison, Green said he would give $1,000 a month to 10,000 residents living in poverty, which would include people leaving prison.
"Going home … we should make sure they have a path to living in a middle-class life, to be able to access real job opportunities, and we need to give them that foundation," Green said.
King said he would give $600 a week to some people under a universal income program that would include job training and social services.
Buckner said he will implement customized repayment plans, while Garcia said he will take a holistic approach with various community partnerships and employment opportunities.
Two mayors' forums are planned for Saturday. One is hosted by the Libertarian Party of Chicago and the other by Chicago Women Take Action.
To watch Saturday's forum, click here.
Listen to "It's All Good: A Block Club Chicago Podcast":