It seems like every week the news in the world of vegan food is more exciting than the last, and this week is no exception. If you want to stay away from cooking until the holidays, both Daily Harvest and Blackbird Foods have just released easy-to-prepare vegan meals. Meati Foods is expanding its vegan meats made from its patented mushroom root into new categories. And Heinz is releasing pickle ketchup to put on top of it all. Read on for more.
1Blackbird's New Pepperoni Pizza
Tis the season for vegan turkey and all the trimmings, but sometimes we just need a quick pizza to get us through dinner. Luckily, New York-based Blackbird Foods has a meatier way to satisfy our lazy cravings: a new pepperoni pizza recipe made with Beyond Meat's plant-based pepperoni.

Blackbird Foods
"Pepperoni is one of the most popular pizza toppings, and we're proud to bring Blackbird a delicious plant-based version that delivers the flavor and texture of traditional pepperoni, with the nutritional and environmental benefits of plant-based meat," Shira Zakai, Head of Global communications of Beyond Meat, it said in a statement.
The New York-style pizza boasts a crust that's been perfected by overnight rising, providing an authentic pizzeria experience straight from the oven – with just eight minutes of cooking time.
"I am particularly excited about the addition of Beyond Meat's innovative plant-based pepperoni to our pizza line," Blackbird CEO Emmanuel Storch said in a statement.
"Beyond Pepperoni tastes absolutely delicious, and we think consumers will be blown away when they try it," said Storch.
Pizza lovers can find this new offering at retailers like The Fresh Market and select Whole Foods Market locations. The pizza joins a variety of vegan products under the Blackbird brand — a consumer goods product of the famous and now-shuttered Philadelphia vegan pizzeria of the same name — that also includes other pizza flavors, a variety of plant-based wings and its own seitan.
2Daily Harvest's new vegan pasta dishes
Are you saving all your cooking energy for the big day? Daily Harvest—a food delivery company known for its convenient, plant-powered options—just launched a new line of pasta that will help keep your oven spotless until Thanksgiving.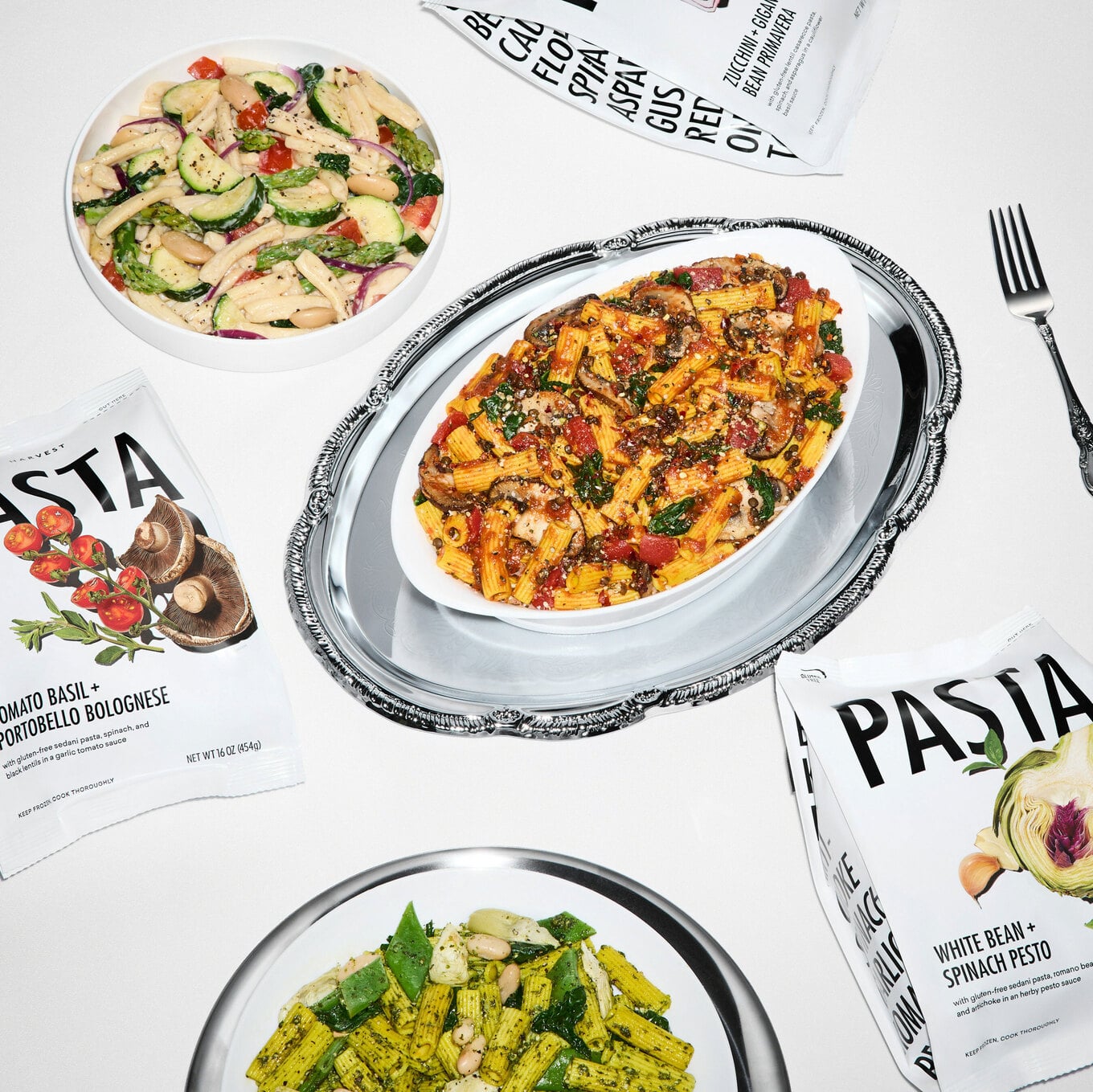 Daily harvest
The series of easy-to-prepare dishes is based on Tomato Basil + Portobello Bolognese, a dish that captures the essence of comfort food while being in line with the brand's health-conscious philosophy. With its rich and hearty sauce, it offers soul-satisfying flavor without the heaviness often associated with traditional pasta dishes.
The lineup also includes Hearty Zucchini + Gigante Bean Primavera (which features spiralized lentil noodles and a vegetable trio in an herb cauliflower sauce) and White Bean + Spinach Pesto (which features a nut-free pesto with sunflower seed oil, basil, garlic, lemon, and a hint of cheese from nutritional yeast, all stuck to hollow pasta sedans).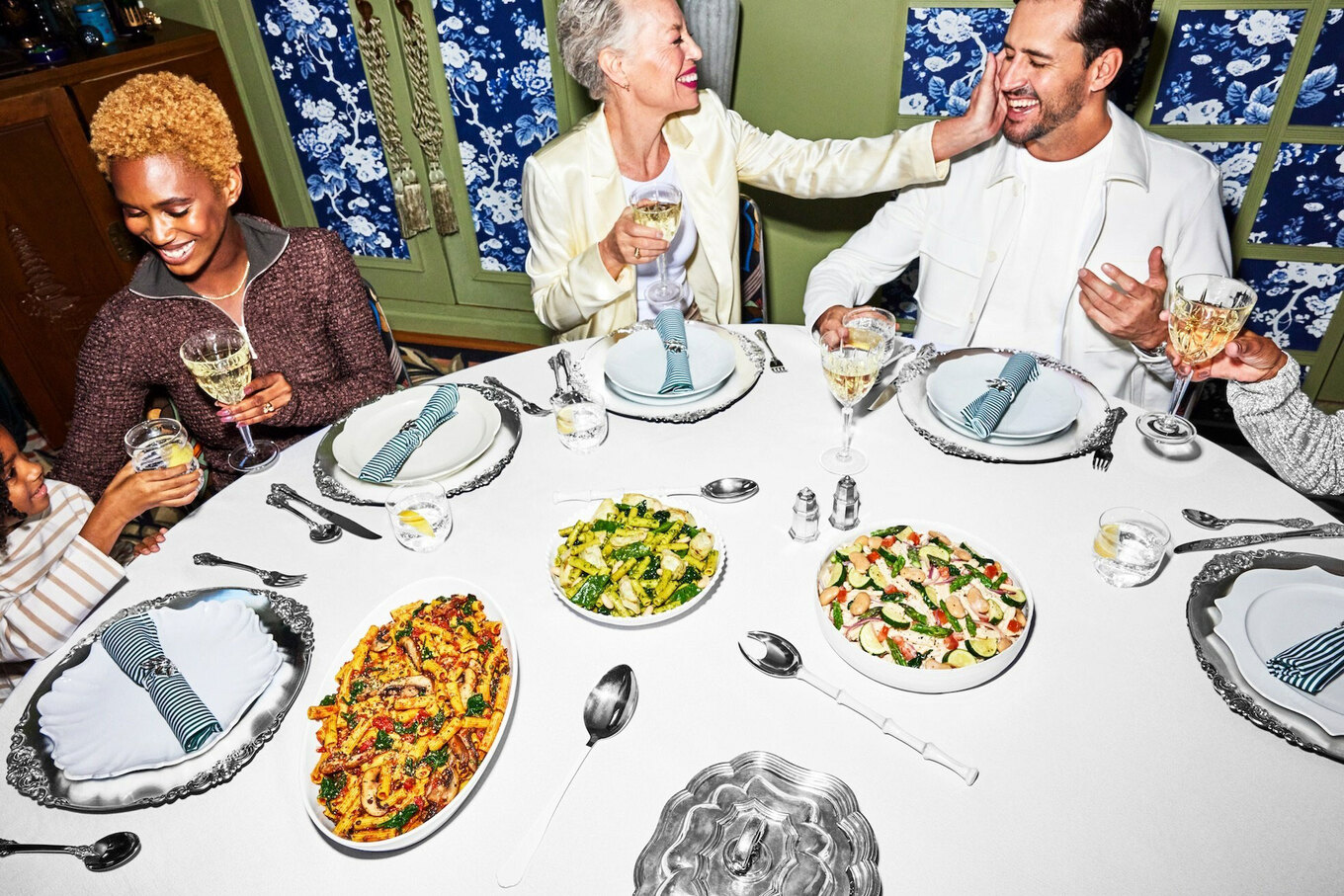 Daily harvest
Each dish is made with whole ancient grains and legumes, ensuring that each serving is packed with at least five vegetables, more than 8 grams of protein and a generous dose of fiber.
Daily Harvest's new collection is suitable for diners looking for a full meal as well as those looking for a wonderful side dish. The pasta line is now available as part of Daily Harvest's subscription meal delivery service, which offers a variety of smoothies, flatbreads, baked rolls and more.
3More mushroom meat from Meati
Earlier this year, Colorado-based Meati made a big splash on the vegan meat scene with the release of its chicken breasts and steaks made entirely from mycelium — the fast-growing root systems of mushrooms — at Whole Foods Markets nationwide.
Simply called "mushroom root," Meati's delicious discovery is now being turned into an entire product line of vegan meats produced much more efficiently than their animal counterparts.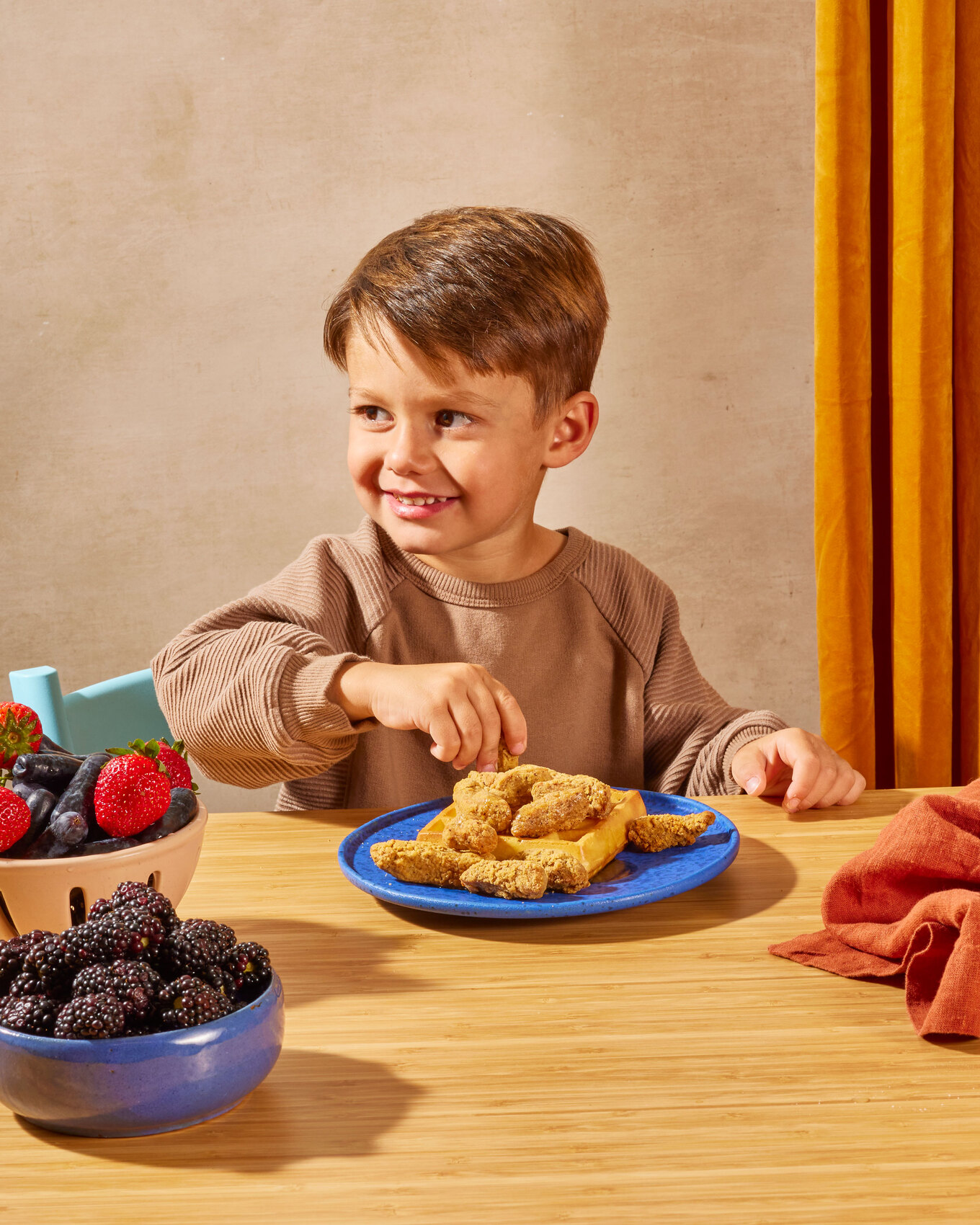 Meat foods
These new items include the recently launched Crispy Bites (Meati's take on vegan chicken bites) and three upcoming products: Spicy Crispy Patty, Garlic Pepper Steak and Italian Seasoned Patty, which will hit the online marketplace in December.
"It's easy for nutrition to fall by the wayside in favor of convenience and taste when consumers are constantly on the go," said Scott Tassani, president and CEO of Meati, in a statement.
"Like all Meati products, Crispy Bites, Spicy Crispy Patties, Garlic Pepper Steaks and Italian Seasoned Patties are designed to be turnkey for you to enjoy nutrient-dense and convenient meals that suit a variety of tastes preferences," Tassani said.
Last month, Meati launched a line of vegan jerky in three flavors after securing a patent for its innovative mushroom root.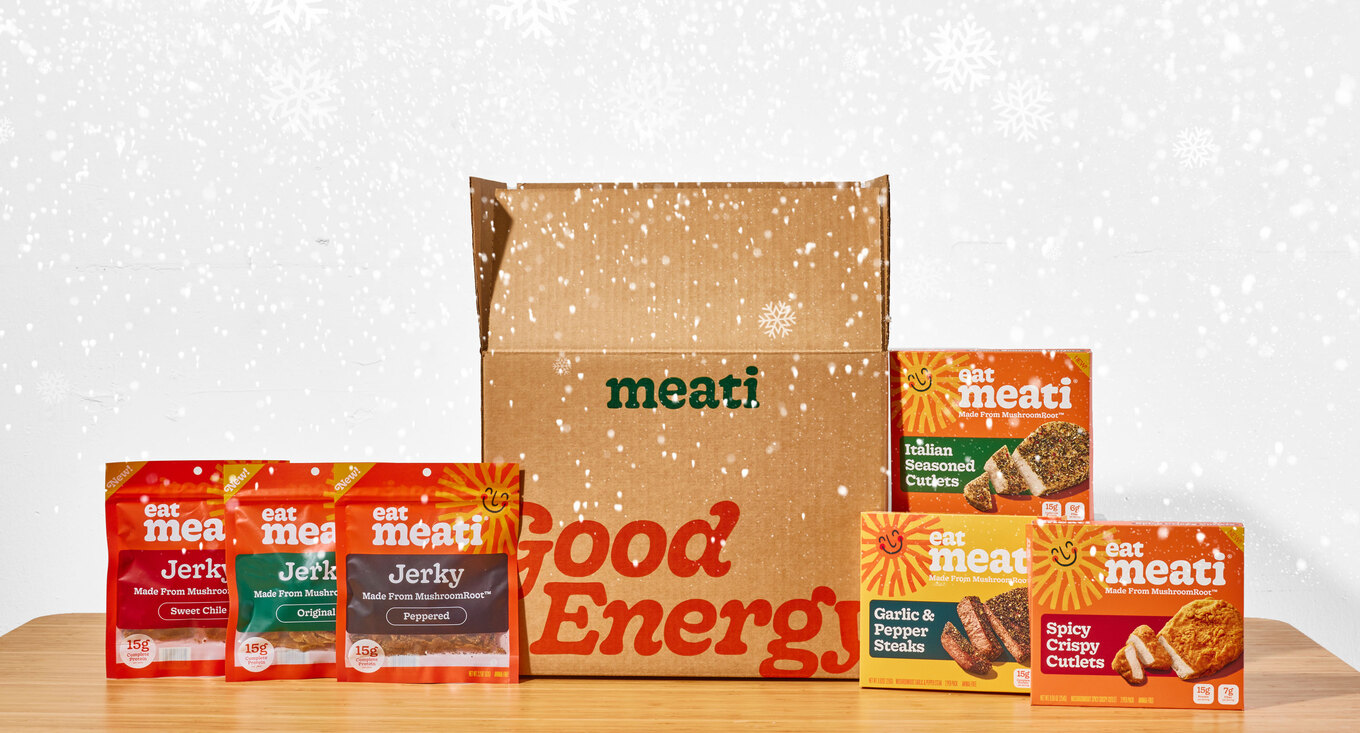 Meat foods
The company is celebrating the festive season with two special packages that include a combination of its new and flagship products available through its marketplace.
4Kraft Heinz Pickle Ketchup
If you ask us, condiments are the most important part of any vegan burger. And The Kraft Heinz Company just combined two of our favorites.
The iconic brand is synonymous with ketchup and pickles on American plates and is shaking up the condiment world with its latest creation: Pickle Ketchup. Blending the tangy, tangy flavors of pickles with classic Heinz ketchup, this new sauce aims to satisfy the craving for something spicy and familiar.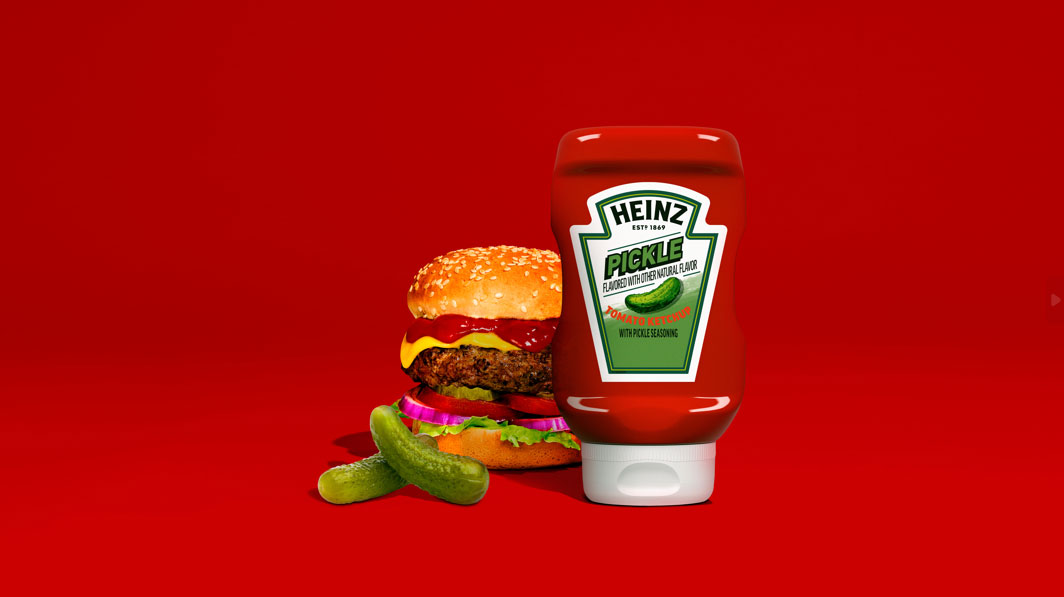 The Kraft Heinz Company
The merger enters America's love affair with pickles, a view shared by 73 percent of the population. Heinz's deep roots in pickle history – embodied by the miniature cucumber on the label and Henry J. Heinz's legacy as the "King of Pickles" – set the stage for this innovative twist that's sure to please the Heinz faithful and enthusiasts alike. the pickles.
"The increased desire for delicious yet unexpected spices served as our North Star innovation," Katie Peterson, director of Heinz Innovation, said in a statement.
"America's current pickle craze reflects the irrational love Heinz fans have for the brand, making it only natural that our newest ketchup combines these two beloved flavors," Peterson said.
Pickle Ketchup represents Heinz's commitment to pushing the boundaries of flavor, continuing a decade-long trend that has expanded the brand into new, nuanced flavor profiles and enhanced condiment experiences.
Pickle Ketchup is expected to hit grocery shelves in the United States by early 2024, following its debut in select UK markets.
5Dr. Oatmeal Milk Chocolate Bronner
For a sweet ending, this week Dr. Bronner's has announced the launch of its newest vegan chocolates. While the company may be known for its all-purpose soaps, it has expanded its environmentally and ethically conscious brand to include chocolate bars in 2021.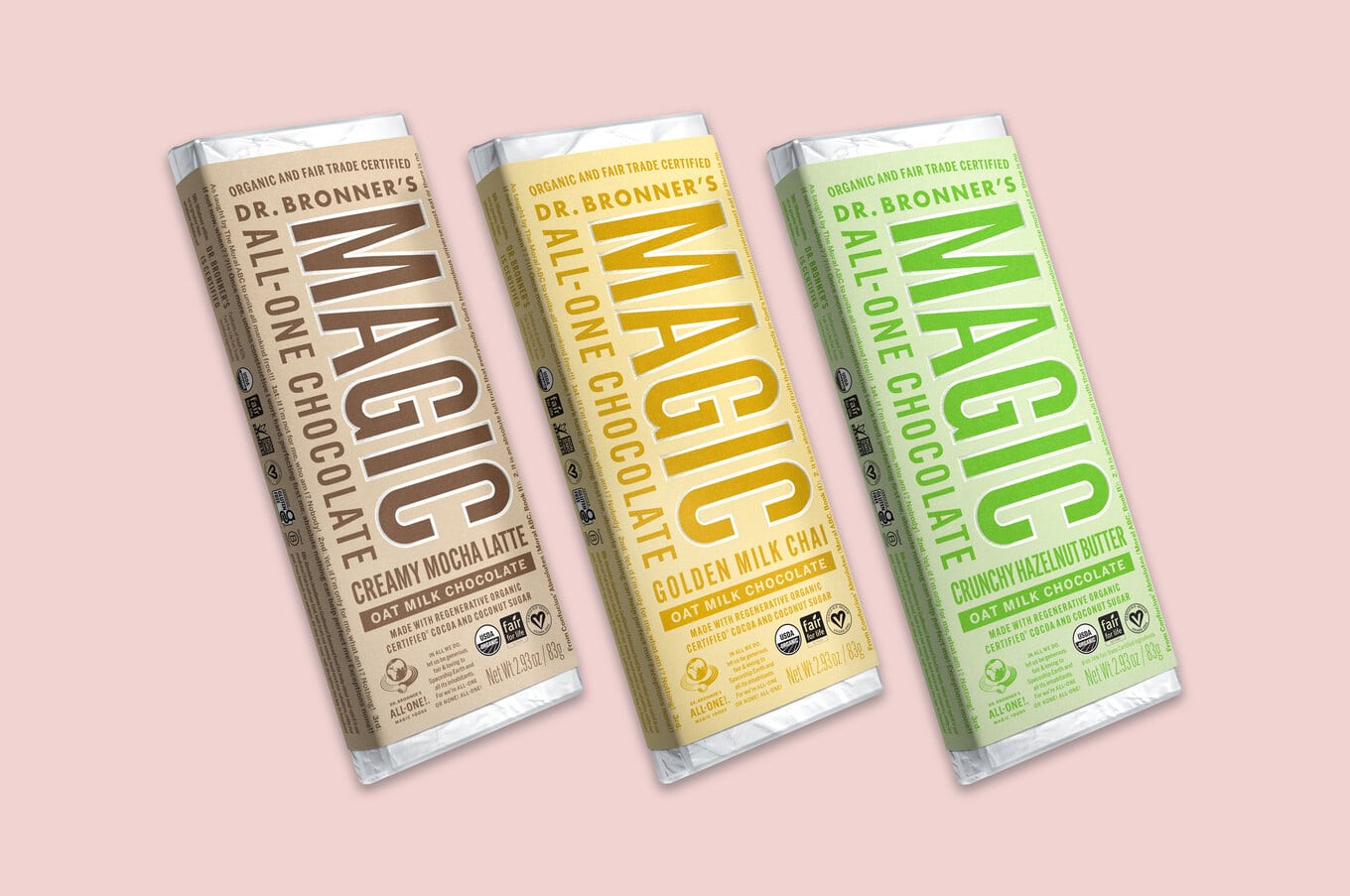 To Dr. Bronner
New to the Magic All-One Chocolate collection are three oat milk bars in three flavors: Crunchy Hazelnut Butter, Creamy Mocha Latte and Golden Milk Tea, each promising a creamy alternative to traditional milk chocolate.
"Our new plant-based oat milk chocolate offers the smooth, creamy texture and sweetness that milk chocolate lovers crave," said Michael Bronner, president of Dr. Bronner's, in a statement.
"We aim to model how chocolate can be sourced ethically, respecting labor and the environment," he said. "In doing so, we're demonstrating that delicious chocolate really can be a source of good in the world, and that the companies that make it can be, too."
The chocolates, which will retail for $5.99 each, are made from ingredients such as cocoa from Ghana and Ivory Coast, coconut sugar from Indonesia and cocoa butter from Congo, obtained through regenerative organic farming. This approach benefits not only the environment but also farmers and their communities.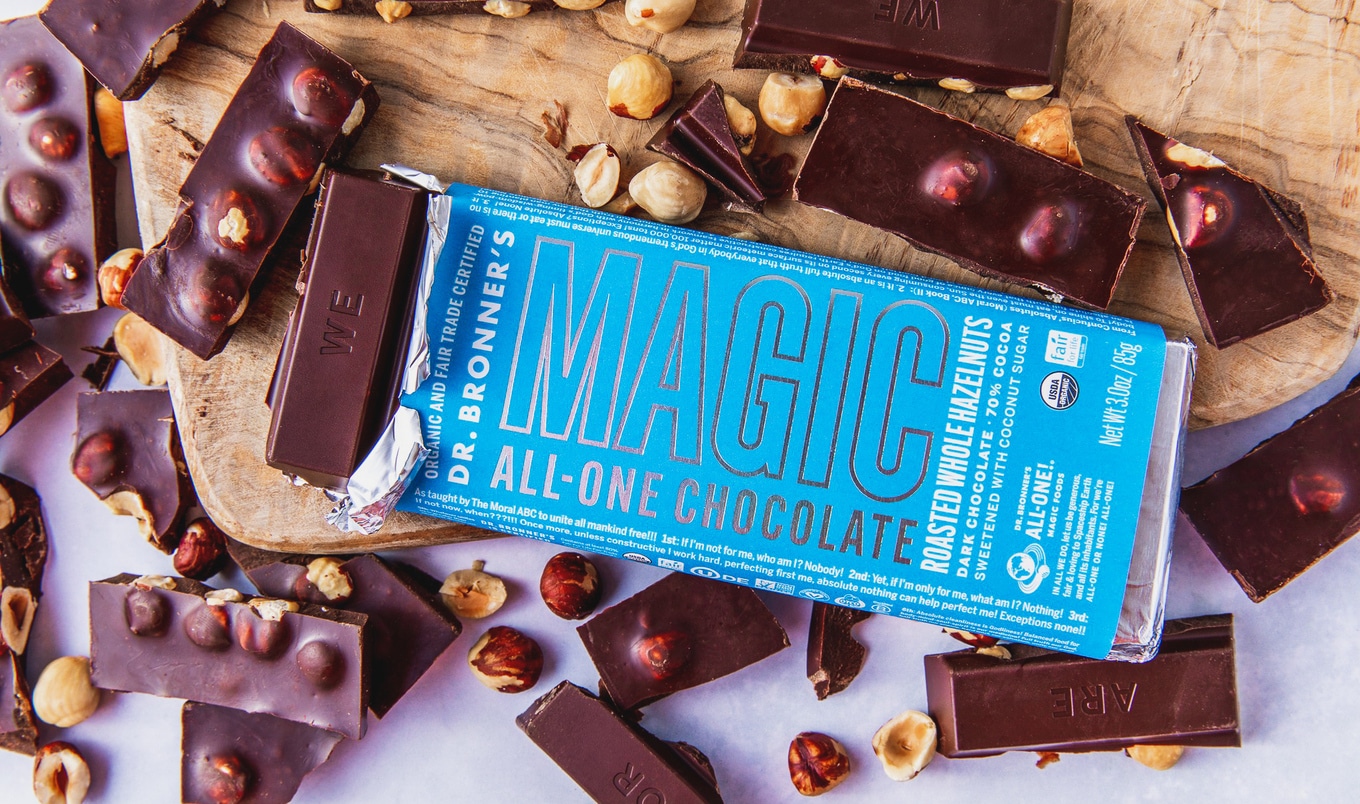 To Dr. Bronner
The new offerings complement the ethical product line that combats the traditional chocolate industry's problems of labor exploitation and environmental harm. Dr. Magic All-One Chocolate Bronner's, including the seven existing dark chocolate varieties, is vegan, uses 70 percent cocoa and is sweetened with coconut sugar.
For the latest vegan news, read: