Cakesa new Pakistani restaurant in the East Village, brings a taste of Karachi to NYU students with its simple menu of hearty paratha rolls and spicy fries.
The restaurant, located at the corner of First Avenue and St. Marks Place, opened on November 2 and boasts five stars on Google Maps. Married couple and co-founders Saif Qazi and recent Stern graduate Kiran Lutfeali developed the idea for Kolachi in 2018. The couple came to the United States in 2012 and decided to name their restaurant after the original name of Karachi, their hometown.
"We missed Pakistani food and went around looking for food that reminded us of home and satisfied those cravings, but we couldn't find anything," Kazi said. "Nobody here was really doing Pakistani food the right way."
The menu focuses on just three flavorful rolls, all under $10: chicken and beef, each for $6.50, and a veggie option for $8. All the protein options are grilled, marinated in a homemade spice blend reminiscent of the street carts of Karachi, and wrapped in a flaky yet crispy fried paratha. The rolls are also filled with onions and a creamy luteinita with mint and yogurt, balancing the spiciness of the egg whites.
"Karachi has a huge field in cuisine," Kazi said. "There are over 100 different items out there with very different concepts and flavors, so we picked something that we thought would immediately resonate with New Yorkers."
The restaurant's fourth menu item, the $4.50 Diesel Fries, puts a unique twist on the traditional fries commonly found at burger joints. The fries are covered in a peppery and spicy masala that gives them a salty taste and aims to recreate the flavor profile of the fries sold on the streets of Karachi.
"We call them Diesel Fries because in Karachi you get fries on the street from home kitchen fryers powered by diesel generators," Kazi said. "When you get close to them, you can smell the diesel before you even get to the cart."
To balance the spice, Kolachi served the fries with an unexpected condiment – maple syrup. The dip is a play on the sugary syrup commonly served with the Karachi fries, as well as the chicken and waffles dish common in southern restaurants.
There are other restaurants near the campus, such as Thelewala and The Kati Roll Company on MacDougal Street, which serve similar South Asian-style parathas. Lutfeali, however, said Kolachi rolls stand out for their unique cultural blend of spices.
"There's a lot of Indian, Pakistani and Bangladeshi food, but they're lumped together so no one knows which is which," Lutfeali said. "There's a different flavor profile in Karachi and the food you get here is just not the same as what we grew up with."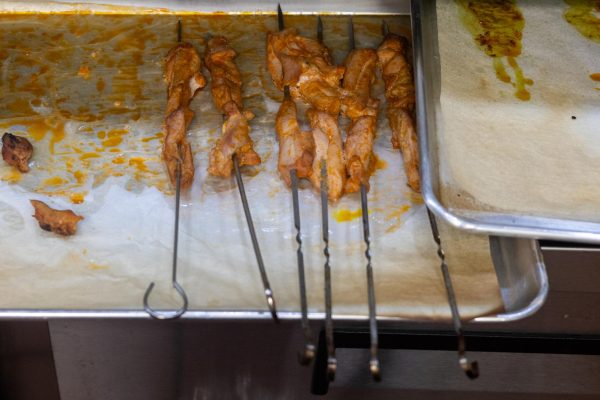 The restaurant's close proximity to Third Avenue North, Founders and Alumni residences makes it ideal for students tired of eating the boring South Asian offerings of Chaat House and Crave NYU. The couple said they had the area's student population in mind when they opened and aimed to be a go-to spot for late-night snacks, which is evident by the midnight closing time.
"Our food is quick, easy and cheap, and that profile fits the students, and we're lucky to be surrounded by NYU," Lutfeali said. "The East Village is new and vibrant and there are so many different types of cuisine here. That's why we settled on him."
Lutfeali said the first two weekends of the restaurant's opening have been a huge success, with Kolachi garnering a wave of positive feedback, some even saying the rolls remind customers of Karachi. Although both Kazi and Lutfeali currently have day jobs outside of Kolachi, they hope the restaurant will continue to be successful, allowing them to devote their time and energy fully to Kolachi.
"This is our first restaurant and there were a lot of surprises, but it was exciting," Lutfeali said. "It's been a rollercoaster of emotions because it's something that's so close to us. This is our food that we are trying to bring to New York. We just went through a lot of obstacles, but none of them were unpleasant. It was all a learning experience for the next location."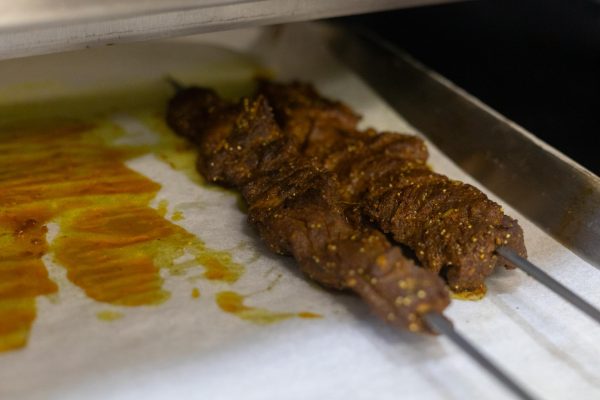 Contact Krish Dev and Naisha Roy at [email protected].