It's hard to miss the Good Grub Food Truck with its vibrant, graffiti-like exterior, so my advice is simple: when you see it, stop.
This family kitchen on wheels serves breakfast and lunch with clever and different variations. However, don't be surprised to see the truck at night with the same bill.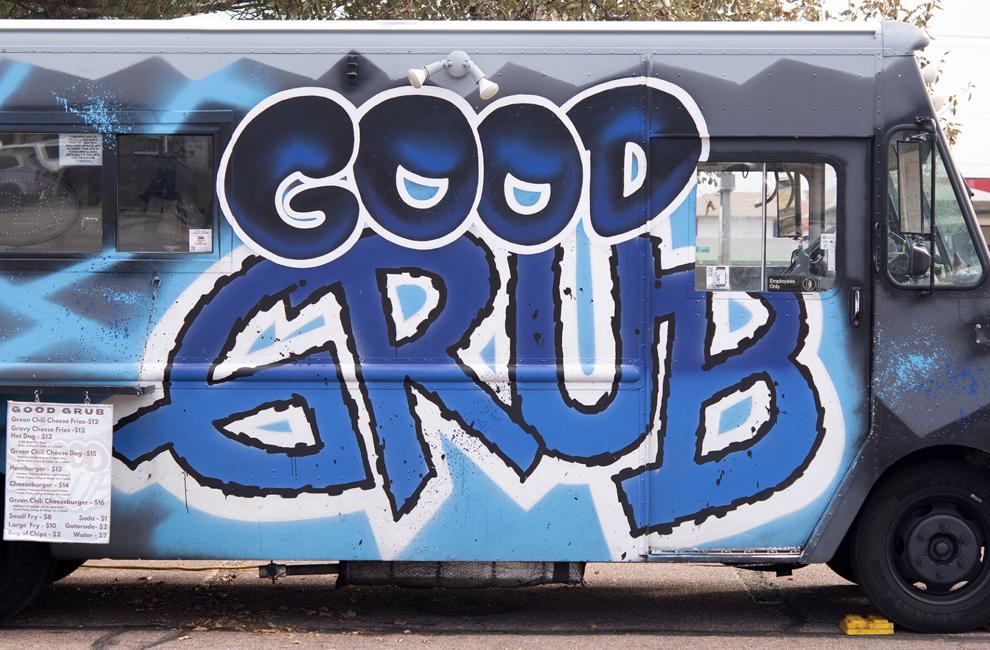 Green chilies, available with or without pork, feature in many of the food items. We wondered about the heat level and were happily offered to taste before we ordered. Made with Pueblo green chiles, the palate alarm starts slowly, but when it does, the spice level definitely wakes up the taste buds.
We're told the green chile cheese fries ($12) and the green chile cheeseburger ($16) are the most popular items. Monte Cristo Waffle Sammy ($14) and Fried Chicken and Waffles ($13) are next in line.
Hand-cut skin-on fries are loaded with chili and gooey cheese sauce. The sticks soften the spiciness enough to enjoy the sharp flavor of the peppers. It's a generous portion and even when I thought about not eating more, I did. They are addictive. They are also excellent sides for hamburgers and on their own (aka sandwiches).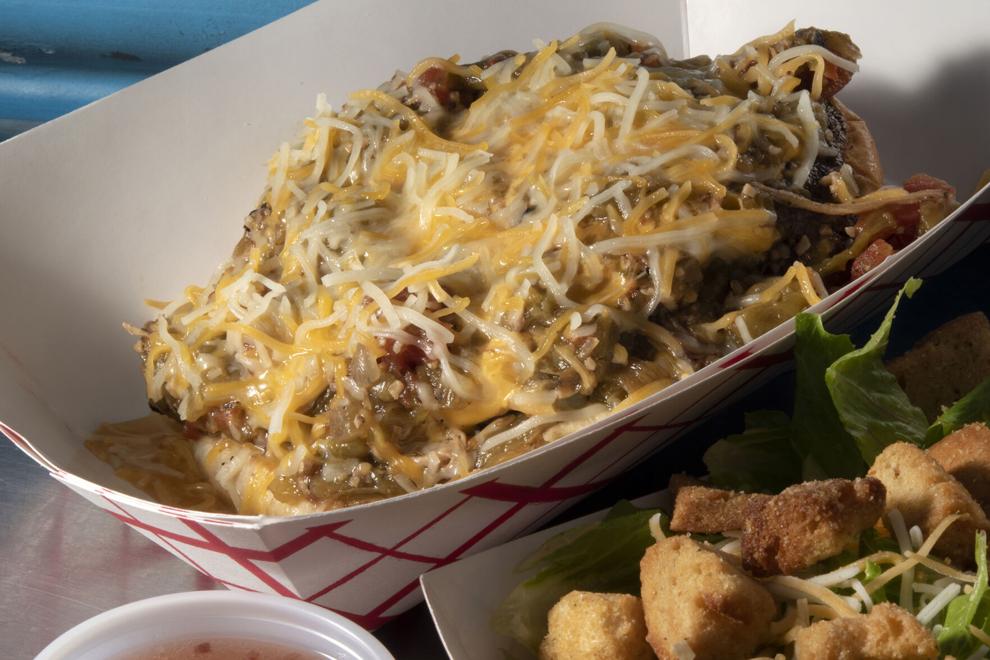 Although we ordered a basic cheeseburger ($14), the green chili version was described as similar to a slopper. Hand-pressed beef patty on an open bun is smothered with greens. Like the sammies, hamburgers and hot dogs, it comes with a choice of lettuce, fries or chips.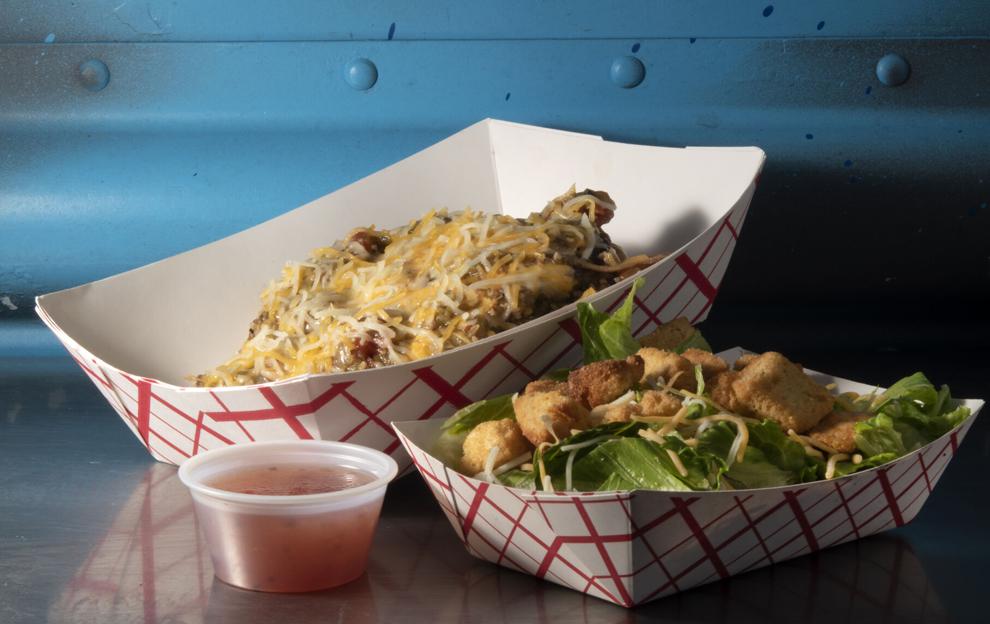 The cheeseburger comes with swiss or cheddar and is topped with a thick slice of tomato, onion, pickles and lettuce. The toasted bun held everything in place without losing its shape or falling apart.
The green salad was a large portion of vegetables covered in croutons. Since we ordered fries, it was nice to have a healthy side option.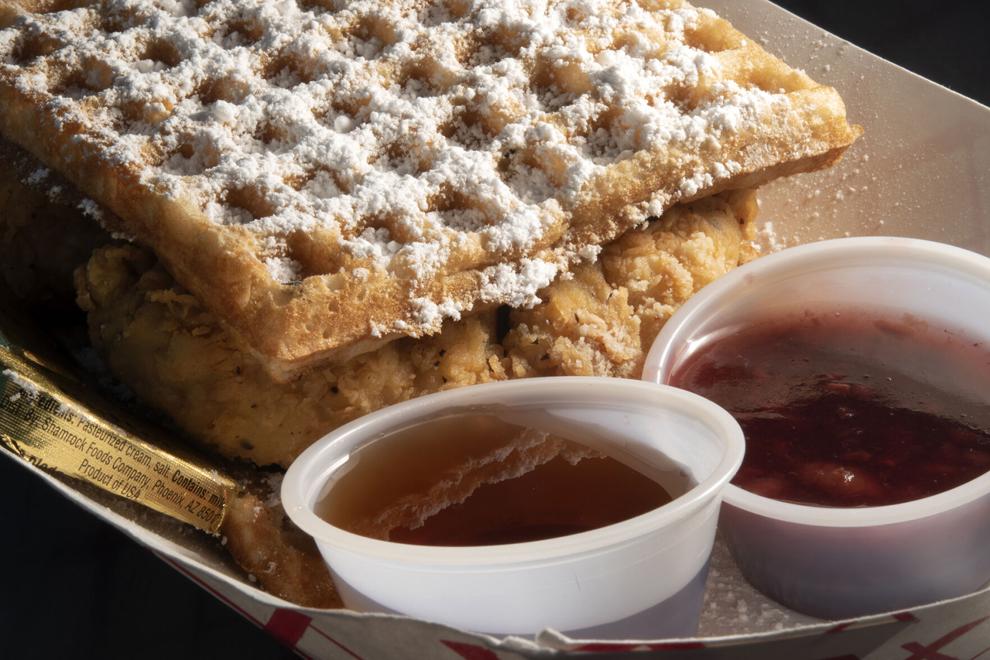 The combination of fried chicken and waffles always tempts me and I can rarely resist. I was told that the order would take a little longer because they had to fry the main ingredient, I took that as a good sign.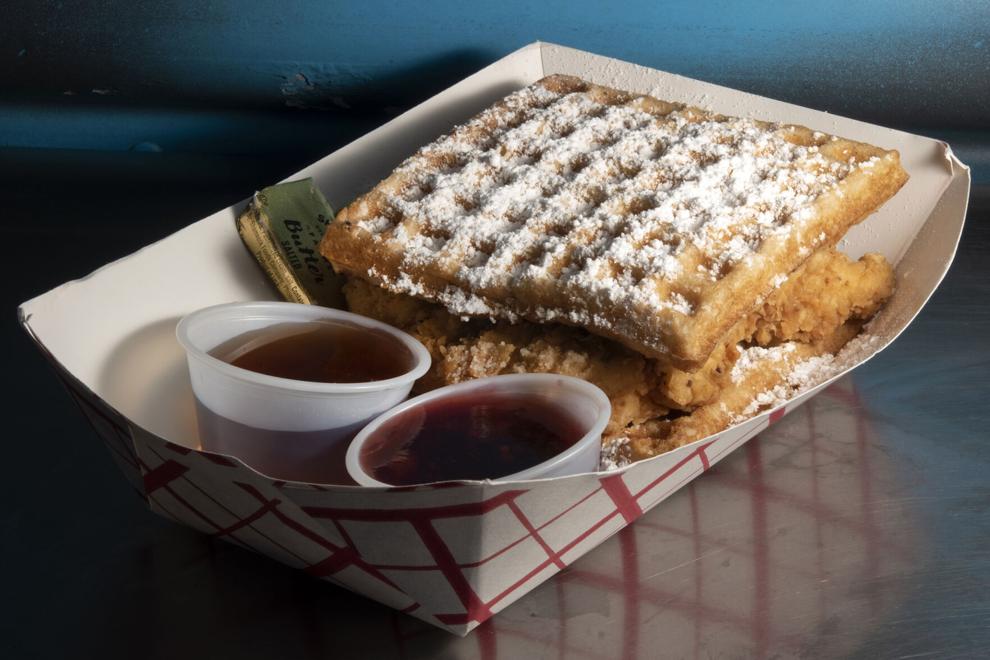 Hidden between two golden wafers dusted with powdered sugar were two pieces of crispy chicken, sprinkled with black pepper. The side of maple syrup easily turns it from savory to sweet. My only complaint was the abundance of powdered sugar. I really only needed one waffle. Although that was probably due to the number of fries I ate more than anything else.
Instead of bread, waffles play a role, making the Monte Cristo sammie several steps (or layers) above the norm. Ham, turkey, swiss and cheddar ooze from the waffles.
Add the raspberry compote and it looks like a messy mess, but looks are deceiving. There is also a lot of powdered sugar that decorates the waffles.
Breakfast options include burritos, quesadillas, a waffle sandwich and, unsurprisingly, waffles — Good Grub's description, not mine. A children's menu is also available.
Like most food trucks, food is made to order, so expect a wait. Worth.
Good Grub food truck
Comfort food, burgers and sandwiches.
location: Social media schedule and location.
Contact: 1-719-216-9090; goodgrubbytaco.com
Prices: $7 to $14
O'clock: Vary
details: Credit cards are accepted.
Favorite dishes: Chicken and waffles; green chili and cheese fries.
Others: Limited gluten-free and vegan options available.